20031011 - Moose Jaw, SK
I found an open campground!! Woohoo! Here's camp. Paradise Oasis
I looked around town some, and found an Internet Cafe. Initially, there was no place to jack in, but Brock, of Brock and Rachel fame, tore the place up until I had access. That was cool! The java is good, too.

I did eat at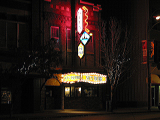 Nits. The food was great. I went with the Pad Thai, a safe bet when you don't know the food will be great. It was prepared in a manner I am not accustomed to, but I liked it quite a bit. The place was mobbed and well-handled by only two waitresses. At least this was my experience. When I walked in, I was at one of three or four occupied tables. When I left, there were easily 100 people in there.
So they say in Moose Jaw that Al Capone used to run rum up through here. They say he used public works tunnels to conduct his business. Moose Jaw offers a tour, but not after 1930, and not before 1000, so I skipped it.