Pics along the way...
Here are some pics from the first day.
I found this cool sign on the way to Brandon, MB. It scared me.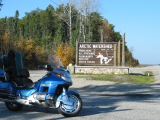 Here's camp in Moose Jaw, SK.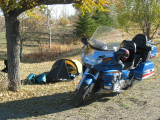 You can see more of Moose Jaw here.
After Moose Jaw, I headed to Calgary.
Here are some pics from the Rockies region.
After the Rockies, I stayed at the Juniper Beach Campground, just outside Cache Creek, in the desert.
Betty Larkman, at the campground, recommended taking 99 South into Vancouver. What a good call that was. Here are many pics of the route from Cache Creek to Vancouver on Route 99.
I spent some time in Victoria. There are just a few pics. I'd have taken more, but I was afraid the camera might not live too long in a downpour.
From the forests down by the shore, some wildlife.
The trip from Salem down to Brookings was remarkable. Here are some pictures along Highway 101 of the southern Oregon coast.
20031019
Here are a few pictures of the trip down 101 into Northern California and darn near San Francisco. Highway 101 of the northern California Coast.
After the coast, I ran through a lot of redwood forest. Most impressive was theAvenue of the Giants. It's a great stretch of parkland that has a really uniquie micro-climate that's well-suited to sequoias. Here are some pictures.
20031020
I was awfully near where I grew up, so I toured through Berkeley and took some pictures.
As has been the custom so far, here's a picture of the Internet Cafe I'm using to post this stuff. It's the Royal Ground at 1146 Fourth St. in San Rafael. They have good coffee, and free wireless if you bring your own rig. They have a great jazz station in the area tuned in. This is the way it should be! I recommend it.
Here are some pictures from Yosemite, CA.
I took some pictures in Sedona and on the way to Bryce Canyon.